Learn More About Invisalign
Invisalign are virtually invisible aligners made of a thermoplastic material. They look similar to teeth-whitening trays. These aligners are custom-made to move your teeth following the sequence we design for you after a thorough assessment and diagnosis. You will receive a series of aligners, each of them will gradually adjust the position of your teeth.
Dr. Laurence Masters is a Platinum Invisalign Provider which means he has extensive experience and know-how with this type of orthodontic appliance.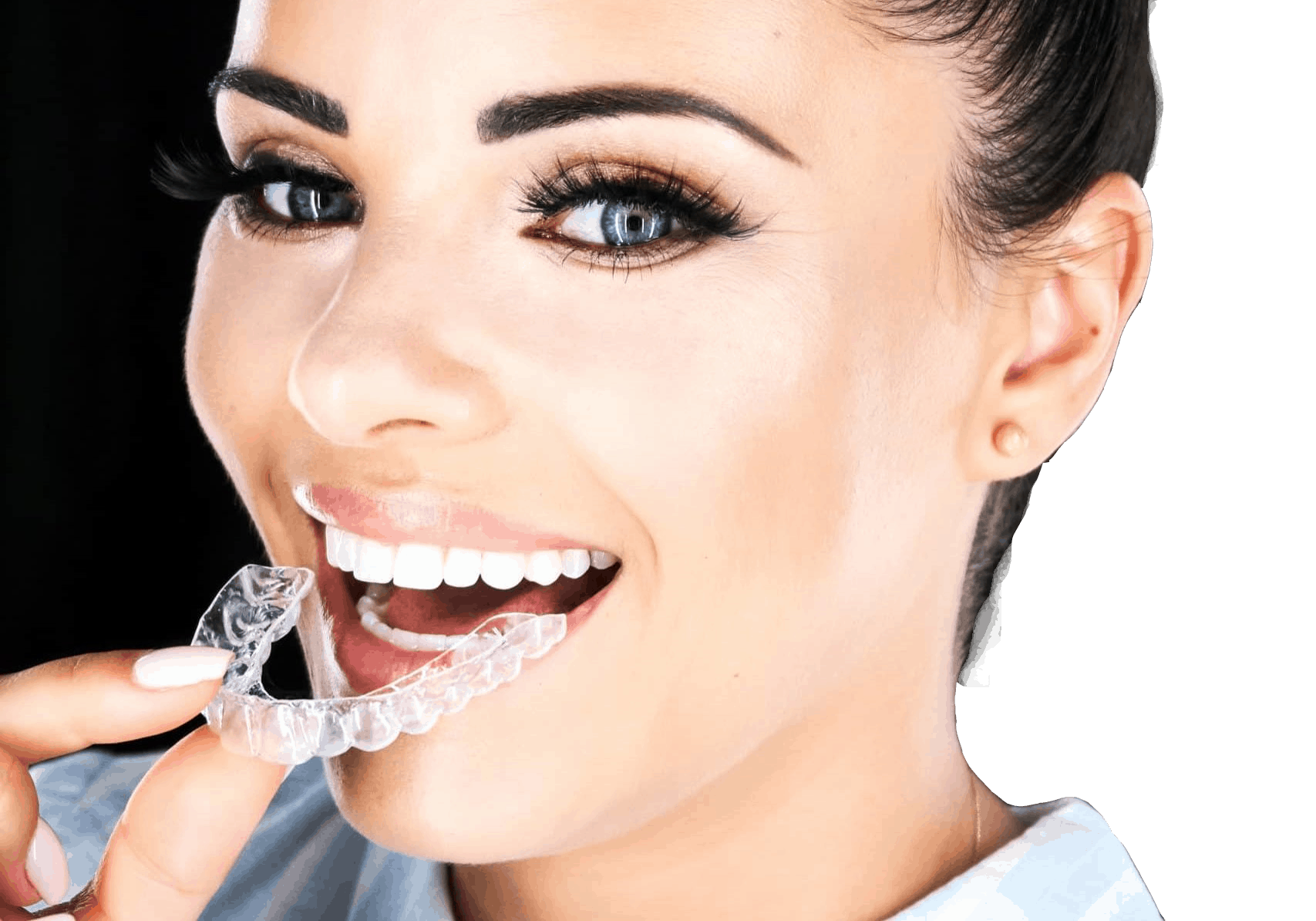 What Are The Benefits Of Invisalign?
Invisalign aligners are virtually invisible. No one may even notice that you're wearing them, making Invisalign a seamless fit with your lifestyle.
Invisalign aligners are removable. For the best results and a timely outcome, aligners should be worn for 20 to 22 hours per day. However, unlike with braces, you have the flexibility to remove your aligners to eat and drink what you want during treatment. And you can also remove the aligners to brush and floss as you normally would, for fresh breath and good oral hygiene.
Does Invisalign Cause Discomfort?
There are no metal braces or wires that could cause irritation to your mouth, an advantage over traditional braces. Plus, since your office visits during treatment don't involve metal or wire adjustments, you'll likely spend less time in the doctor's chair.
Invisalign allows you to view your virtual results and treatment plan before you start so you can see how your straightened teeth will look when your treatment is complete. Instead of imagining how much better it can be, you'll be able to see it for yourself.
Slide to see what we can do...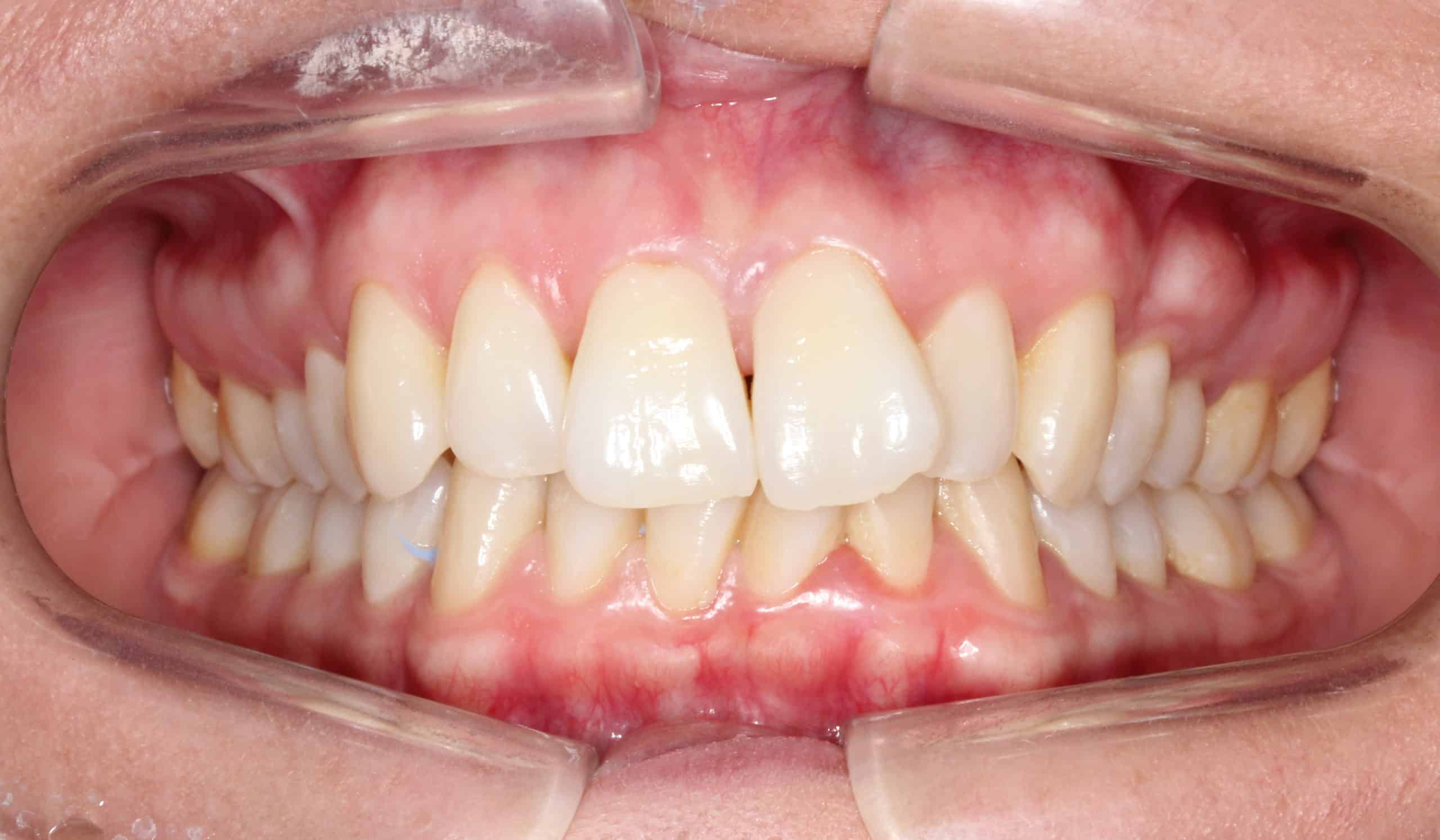 Invisalign Before & After
Frequently Asked Questions
We offer 2 different modalities of Invisalign: Full and Lite. As the name implies, Invisalign Full is for more complex cases that require a more comprehensive approach and therefore need more aligners. Invisalign Lite, on the other hand, is comprised of 14 aligners only and it is used for very mild problems or for those patients that have had previous orthodontics and they have had some relapse over the years.
Invisalign Full: £4800
Invisalign Lite: £3600
Invisalign aligners work by applying a gentle but controlled force to your teeth. Each aligner will move your teeth by 0.25mm to the desired final position. One of the advantages is that you can select which teeth you want to move. You might only want to move the anterior teeth and not your molars for example.
This depends on the complexity of each case. Simple alignment cases can take 4 to 5 months whereas more comprehensive cases can take around 2 years.
Invisalign is very different from metal braces and both modalities have advantages and disadvantages depending on a specific case. If planned properly, Invisalign is just as effective as fixed braces with the added advantage of being removable and less obvious. One very important advantage is the fact that we can select which teeth we want to move and which ones we want to leave untouched. With fixed braces, this is impossible as the wire is attached to all the teeth.
During the initial few days after you insert a new aligner, you might feel a little pressure on your teeth. This is normal and expected and it is a sign your teeth are moving due to the pressure exerted by the plastic. This pressure gradually eases off until you fit the next aligner in your treatment sequence.
Invisalign starts working immediately when you insert the aligners. The first 4 to 5 hours are critical as this is when most of the movement will happen. This is why we recommend you change to a new aligner in the evening just before going to bed.
Invisalign will only work if you use the aligners as instructed by your Orthodontist. We recommend you use them at least 22 hours a day and only remove them to eat and to clean them.
We recommend you remove your aligners to eat as you might damage them. Any retained food inside the aligner can also cause damage to your teeth if not cleaned properly.
All our patients will be given retainers, be it with Invisalign or fixed braces. Retainers help maintain teeth in their new position and prevent them from relapsing over time. We want you to keep your beautiful smile forever!
We usually see you 2 or 4 weeks after we give you the first 2 aligners. After this appointment, we tend to see you every 6 to 8 weeks for reviews and any necessary adjustments.
Overbite is how much your upper teeth cover your lower teeth. Depending on the severity of the overbite, Invisalign can improve it drastically if the problem is not skeletal in nature. Severe overbites might only be corrected surgically. Only after a thorough assessment will we be able to determine the degree of complexity of your overbite.
Almost all cases can now be treated with Invisalign. We will be able to give you a much more thorough diagnosis and treatment plan after an initial consultation and ascertain whether or not you are a candidate for Invisalign.
This is not a problem and can be done easily. We need to check the progress of your braces and come up with an alternative treatment plan with aligners.
One of the main advantages of Invisalign is being able to see how your teeth will look before you even move them thanks to their 3D software (Clincheck). They are transparent, they are removable, they allow for better brushing and hygiene, you have fewer emergencies (broken braces and poky wires) and you don't have to be seen as often as with fixed braces.
The aligners are very thin and contour your teeth perfectly. Most orthodontic appliances will need an initial period of adaptation but after a few days you get used to them and your speech will be normal.
General Dentists and Orthodontists can offer Invisalign treatment. Both require to go through a certification process in order to become an official Invisalign Provider. Dr. Laurence Masters is a Specialist Orthodontist with many years of experience and is currently an Invisalign Platinum Provider. Although General Dentists are allowed to prescribe aligners, they don't have the knowledge and clinical expertise that Specialists do. If you had a heart condition, would you rather see your GP or a Cardiologist?